This post may contain affiliate links, which means I'll receive a commission if you purchase through my links, at no extra cost to you.  Please read full disclosure for more information.
So you want to be a financial analyst huh? Well, you've come to the right place. The Bizness Professionals blog is filled with content that can help in your quest of landing a job.
Pursuing a job as a financial analyst is a challenging and competitive endeavor, but I can tell you from firsthand experience that it is rewarding.
I am currently working as a financial analyst in a specific niche involving project finance and tax equity. Previously, I worked as a financial analyst for a Fortune 500 company and before that, I worked at a hedge fund. During college, I had two internships as a financial analyst.
So take my word for it. It is a tough path to break into, but once you land a few internships and that first full-time position, the subsequent positions will be much easier to get.
Financial analysts are critical to all types of companies and the demand for financial analysts remains high. Given the versatile skill set financial analysts have, they have a variety of career path options they can pursue.
A precursor to landing the job is to have a top-shelf financial analyst resume. Your resume will get you in the door and it's the first thing a company has to judge you off of. Not all resumes are the same. The content and formatting that is optimal in other industries might not be best for the resume of a financial analyst.
You have to tailor it to the industry and the job position. In this post, we'll dive into the workings of a financial analyst resume.
First, it's important to know what a financial analyst is, what they do, and what qualities they possess.
WHAT IS A FINANCIAL ANALYST?
A financial analyst is a highly coveted and versatile position that entails an individual examining financial data and making business recommendations to their company based on their analyses.
Financial analysts typically have a background in finance, accounting, or another business degree, though it is not unusual for someone to become a financial analyst with a different educational background. If an individual is able to work well with numbers and draw valuable conclusions from them, they are qualified.
Raw data and numbers can tell a story. The story is not in plain sight but is found in the financial data an analyst examines. It is the job of the financial analyst to take information, find the story the numbers are telling, and present the story to the management team of the company.
The title "Financial Analyst" is a catch-all title for number crunchers. Every industry has some type of financial analyst.
Here are a few common industries financial analysts are found:
Investment banking and private equity
Equity research
Corporate finance
Investor relations
Wealth management
Real estate
Renewable energy development
What does a financial analyst do?
Overall, financial analysts are responsible for taking financial data and interpreting that data to analyze what has happened in the past, what is currently happening, and what could happen in the future.
This analysis is usually done in Excel through a financial model and with the use of programs such as Bloomberg. Then, information is presented through a PDF of a Word document or PowerPoint presentation.
Though the role and responsibilities of a financial analyst can differ based on the industry, the underlying purpose of every financial analyst is to analyze financial data to help with the decision-making process. These recommendations aim to increase revenues and investment returns and decrease expenses and investment losses.
Here are common duties of a financial analyst:
Synthesize and analyze financial data
Build financial models and presentations for management, investors, etc
Present recommendations to be used in the decision-making process to increase efficiencies at a company
Conduct research on the past and present to predict future outcomes
Conduct and generate research to be used by the investment community to make investment decisions
Stay in touch with current events and micro and macroeconomic trends
Compare the financial data of companies against each other to identify trends
Frequently consult with their team, management, third-party service providers, investors and government regulators.
What qualities do financial analysts have?
Financial analysts possess certain qualities that are required to perform the job. If you are looking to become one, you'll want to be sure you have most of these skills by the time you apply. If you are lacking in any areas, the skills are attainable through awareness and practice of implementation.
We'll break up the qualities into hard skills and soft skills.
Hard skills are associated with learned technical abilities such as knowing how to build a financial model, how to manage a portfolio, and how to use Microsoft Excel and PowerPoint.
Soft skills are typically defined by interpersonal and people skills.
Employers look for BOTH of these skillsets when considering an applicant. Some employers actually look more at soft skills than hard skills since hard skills can be taught more easily. So it is important to show you have both on your resume.
Hard Skills
Financial analysis
Financial modeling
Skills with all Microsoft Office products
Statistical analysis
Experience with a Bloomberg Terminal
Project management
Writing and presentation
Knowledge of finance and accounting topics
Understanding of rules and regulations
Soft Skills
Resilience
Attention to detail
Problem-solving
Communication
Organization
Multi-tasking
Empathy
Leadership
Professionalism
Punctuality
THE IMPORTANCE OF A RESUME FOR FINANCE
The resume is one of the make-or-break obstacles in your pursuit of becoming a financial analyst. The other one is interviewing, but in order to get an interview, you have to have a solid resume.
The resume is what will get you into the doors of a company. You may be highly qualified and experienced, but if that isn't clearly communicated on your resume in the correct way, your audience (the company hiring) will never know.
It's not enough to just have a good resume you use when applying to all positions. Your resume needs to be tailored to the skills and requirements a company expects from the financial analyst they are hiring for.
Beating the Applicant Tracking System
Another important thing to note about your resume is that it needs to pass through the Applicant Tracking System (ATS).
An applicant tracking system is a type of software that a large majority of companies use to keep track of applicants and sort through applicants automatically.
Financial analysts are highly coveted and competitive positions, and job openings can receive hundreds and thousands of applications per position. There are too many to be manually reviewed by those in charge of hiring.
Instead, applicant tracking systems can sort through and rank applicants based on the content found on their resume. They'll search for keywords on your resume that match the job description they published. The tracking system might also look at your GPA, the positions you have held, the length of those positions, etc.
Once the system filters out the best from the worst, the company might only select the top 100 candidates to review with human eyes.
This means that you could potentially be cut from the application process without your resume ever being seen by the eyes of those who are hiring. This can be alarming and intimidating, but following the tips and resume structure given in this post will give you good chance of making it through any ATS software.
THINGS COMPANIES LOOK FOR ON A FINANCIAL ANALYST RESUME
Hiring can be done by a team in human resources or can be done directly by the team that is looking to hire. Here are the things they look for on your resume.
1. Education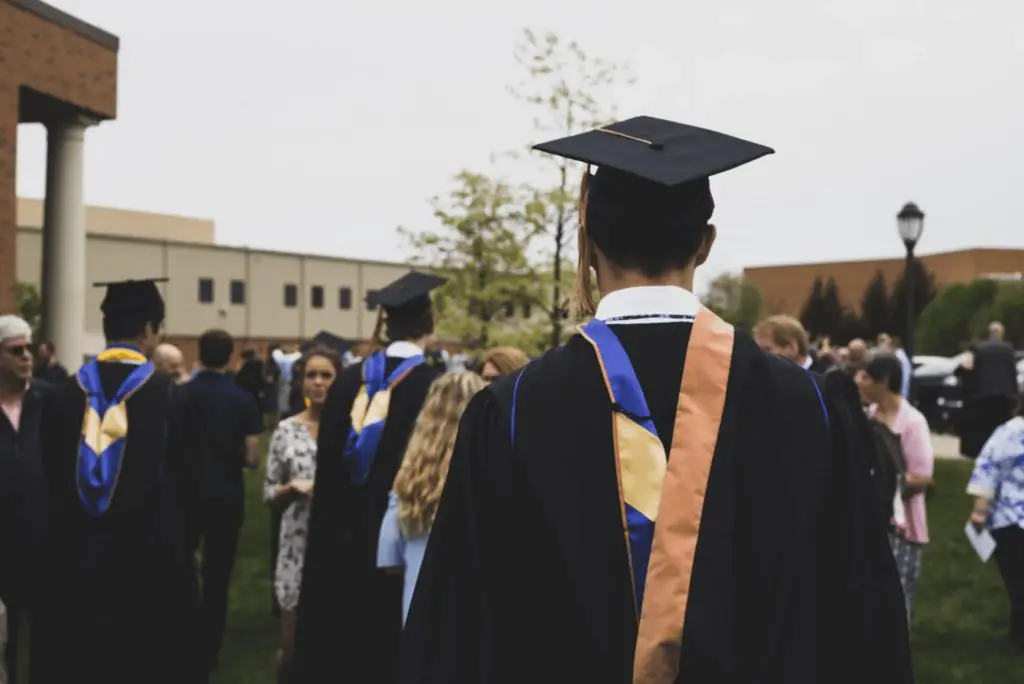 First and foremost, most requirements for financial analyst positions will require a bachelor's or master's degree. Although other industries are relaxing their policies for degrees (such as tech), the finance industry hasn't yet shifted that direction.
On your resume, list out the university you went to, the degree you received, and the GPA you earned.
In addition to your higher education, employers will look at any additional qualifications and certifications you have. Maybe you have your Series 7, CFA, CPA, or another qualification. Be sure to include these on your resume.
If you are fresh out of school, don't be afraid to include a "Relevant Coursework" section on your resume. In this section, you can include 2-3 courses you have taken in school or online that are relevant to the position you applied for.
It can look something like this:
If the position you are applying for requires skills with Excel and financial modeling, including courses you have taken on both will show employers that you have experience in these areas. This can be great to boost your credibility when your work experience is lacking.
2. Work Experience
Next, employers are going to look at your work experience. This is usually the section they put the most weight on when considering you as a candidate.
You'll want to include 3 or 4 positions that are relevant to the financial analyst position you are applying to.
You'll want this section of your resume to be dynamic, not static. By dynamic, I mean that your work experience (and the bullet points you include) need to be tailored to the position. You can find out how to tailor your resume by looking at the job description and the company website.
See what skills and qualities they are looking for.
If they want someone with financial modeling experience, make sure you include that somewhere on your resume.
For example, a bullet can read:
"Built over 25 robust financial models analyzing the investment potential for large-cap companies."
If they are searching for soft skills such as leadership, you could include that you were the lead on a project during your time as an intern.
A bullet can say:
"Volunteered to lead a team of seven other summer analysts in an 8-week group project on equity research."
Take the time to do research and find out what exactly an employer is looking for.
You shouldn't have a single resume you use to apply for every job. You should keep a standard resume to work off of. Then you create iterations of that resume that are made for a specific position and company.
Label your resumes so you can keep track of them. Here are examples of what my resume folder would look like:
Resume_Brandon_Hill_Goldman_Sachs
Resume_Brandon_Hill_MGM_Resorts
Resume_Brandon_Hill_Microsoft
3. Extracurriculars
To complement your work experience, include any extracurriculars you were recently or are currently involved in.
Extracurriculars include clubs and organizations you have been a part of. Note: They do not all have to relate to finance and business.
These can be organizations such as student government, sports clubs, or organizations with a cause you support.
This section of your resume should not be neglected. You can greatly add to your case as a top candidate by what you include in this section.
Here are a few of the benefits of having an effective extracurricular section:
Shows you go the extra mile
Being a part of an organization requires time and effort that average candidates aren't willing to commit to. Employers want individuals that don't do the bare minimum to get by. They want the ambitious over-achievers that are committed to going the extra mile.
Proves your leadership qualities
If you took leadership positions in any of the organizations you were a part of, this will provide evidence that you embody the qualities to lead a group and work well in teams.
Can show you have excelled outside of finance
Employers hiring financial analysts obviously want individuals that are competent in finance, but they don't want one-dimensional financial robots. Including that you were a Division 1 athlete or the president of the surfing club will show them that you care about and excel in areas outside of finance.
Employers want well-rounded individuals.
4. Achievements and Value Added
For the work experience and extracurriculars section, you want to have your achievements and value you added stated in the bullet points.
It isn't enough to simply say what you did in a position. You want to communicate that you had achievements in those positions and added measurable value to the company.
Always keep in mind that employers want individuals that are going to add value to their company.
While analyzing you as a candidate, they are going to judge you and conclude if you could add anything to their firm. You can help them by showing you have a track record of adding value and achieving success in previous positions.
Examples of bullets can include:
"Reduced R&D expenses by 15% in one year by streamlining processes and eliminating non-essential equipment from the budget"
"Ranked first out of 250 students participating in a nine-month portfolio management competition with a return of 46%."
"Conducted financial analysis on the company's segments of revenue and presented the recommendation to management. This ultimately lead to the adoption of the recommendation and a 10% increase in revenue."
5. Hard Skills and Soft Skills
We mentioned hard skills and soft skills earlier in the post. We'll re-emphasize the importance of them again here. Employers look for both hard skills and soft skills. To find out which ones they look for you could do a few things:
Read the job description and look for keywords
Browse the company website to get an idea of the type of people they hire
Do research on similar companies within the industry to find out what traits candidates in the industry have
Once you have a list of the hard and soft skills you need, sprinkle them into your resume.
Including keywords that were in the job posting will also help you get past the Applicant Tracking System we discussed.
Those systems will look for keywords from the job description in the resumes they receive. If the job description wants someone with skills in analysis, the applicant tracking system can choose resumes that have the keyword "analysis" somewhere on the resume.
So identify these keywords that communicate you have these desired hard skills and soft skills.
Think Like the Person Who is Hiring You
Overall, just try to put yourself in the shoes of the company that is hiring you. Think of what they would want in a candidate and do your best to construct a resume that shows you ARE that candidate.
Always be honest on your resume, but present yourself in the best light possible. For your work experience and extracurriculars, you probably had many responsibilities and accomplished many things.
Think about what you have done that could relate to the position you are applying for. Include those and word them in a way that would catch the eye of the team that is hiring.
FORMATTING AND STRUCTURE
For formatting and structure, we'll work off of the finance resume template provided by my alma mater, the University of Utah at this link. This is a simple and effective resume format that I have modeled to land my internships and full-time positions.
My resume is still formatted this way today.
CLICK HERE TO DOWNLOAD RESUME TEMPLATE
Let's analyze every section of this resume
Contact Information
The first section at the top of your resume will include your contact information.
Start with your full name centered at the top of the resume.
Below that, include your cell phone number, email address and a URL your LinkedIn profile. Your mailing address is optional. Feel free to include it or exclude it. Don't exclude it if it is listed as a requirement.
For your email, have a professional email address.
A standard professional email can be "firstname.lastname@gmail.com"
Education
List your education in reverse chronological order, with the most recent degree first.
Include the city and state the university is in on the same line as your university name.
Below that line, include the degree you earned with the date you earned on that degree on the same line, aligned to the far right.
Include your GPA and additional bullets for anything notable.
You can also include "Related Coursework" in the education section of your resume.
Work Experience
For work experience, include the company you worked for and the location of that company. In the line below it, include your position title. On the same line, aligned to the right, show the time period you held that position
Include 3-5 bullets below highlighting your responsibilities, accomplishments, and the value you added to the firm.
Remember to include keywords found in the job descriptions and use action verbs.
Instead of saying "Did financial analysis on companies," you could say "Conducted research and produced financial analyses on 40 small-cap companies."
Activities
Below work experience, include a section for activities or extracurriculars. These can be activities you were involved in during college, after college, and things you are currently involved in.
Keep these events in reverse chronological order, with the most recent activities listed first.
Skills
If you have space to fill on your resume you can include a "Skills" section just below your activities section.
In this section, you can list your skills in bullet-points. The skills you list should reflect the skills desired for the financial analyst position. This can be found on the job description or on the company website.
Interests
At the bottom of your resume, try to fit in a section to show your interests.
This gives you a chance to show what you are interested and passionate about outside of work. It helps show the human element to you as a candidate and can help the reader of your resume learn a little more about you.
For your interest, make sure it is something admirable. Don't say your interest is something like "Enjoys binge-watching Netflix."
While nothing is wrong with this, it may not be received well by the company looking to hire. Binge-watching Netflix could be associated with being lazy or not having ambition for something productive.
Formatting Best Practices
Font style: Times New Roman
Font size: Size 11 is standard. You can go down to font 8 if you need more space
Margins: Try to maintain at minimum 0.5″ margins. To fit more text on your resume, it is better to decrease font size than decrease margin size
Alignment: Make sure the alignment of all your content is consistent, especially bullet-points. All your bullet-points should be clean and aligned with one another.
Section Titles: For every section title (Education, Work Experience), have the title bold in all caps. (e.g. EDUCATION, WORK EXPERIENCE) so it stands out on the page
White space: After creating your resume, look at it from 6 feet away. Ask yourself if it looks easy on the eyes. Is there too much white space? Is there not enough white space? Find a good medium to make an aesthetically pleasing and neat resume, as depicted in the template we have been walking through
FEEDBACK AND REVISION
Once your resume has been complete, it's likely that you'll believe you have created a flawless masterpiece.
If you have the time to do so, you should seek outside feedback and revision. After reading your resume over and over, it's easy to miss errors in spelling, grammar, punctuation and formatting.
A fresh pair of eyes can spot these mistakes.
It's also valuable to have feedback on the content you presented on your resume. Depending on who you ask to review your resume, they might be able to offer helpful advice.
Here are some options for receiving feedback:
Ask peers and family
Go to your university's career services center
Ask mentors and prior bosses
Use an online resume service. This can cost money but could be worth the price. Remember: This is your career. Spending $50-$150 on a quality resume review that could possibly lead to a prestigious job is worth the price.
SUMMARY
There you have it! The road to becoming a financial analyst begins with your resume.
Before pursuing a position, first understand what a financial analyst is. Understand what they do and what qualities they possess. When you have this understanding, you will know what you'll have to do or who you'll have to become to be a financial analyst.
This knowledge will also help you portray yourself on your resume as someone who could fit the description of a financial analyst.
Once you begin creating your resume, review the content you are including and try to think like the company that is hiring. Put yourself in the shoes of the individual reviewing your resume and imagine what they would want to see.
Finally, the last critical thing to your resume is proper formatting. Formatting makes your resume neat and easy on the eyes, which increase your chances of the resume being read. Professionals also appreciate a resume with flawless formatting. This eye for presentation and attention to detail don't go unnoticed.
Following the creation of your financial analyst resume, seek out feedback from others. They'll catch the small things your tired eyes have glossed over and can offer you valuable advice.
If you apply the tips in this post, you'll be on your way to creating the resume that gets you that financial analyst position. Good luck!
About Post Author